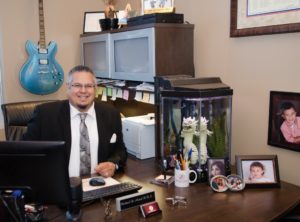 My name is Michael D Arnett, DDS and I am the owner of Briarcliff Dental Care. I am a third-generation dentist and have been a Kansas City native my whole life. I graduated from Lee's Summit High School in 1998. I went on to William Jewell College, where I majored in Art (painting and ceramics), minored in biochemistry, and was a scholarship athlete in football and track and field.
After college I was admitted into the Doctor of Dental Surgery program at UMKC, which is also the alma mater of my father, my uncle, and my father in-law. I graduated in 2006 and started my career on the Kansas side of the state line, where I elevated my skills in oral surgery, endodontics (root canals), denture fabrication, and cosmetics. I continued to work in Kansas as I opened Briarcliff Dental Care in 2009 and in 2012 I left my associateship to focus all of my attention here.
My vision for Briarcliff Dental Care was to create an office that encompassed all aspects of dentistry in a relaxed, comfortable environment. For this reason I have equipped each operatory with 40" HDTVs, mirrors on the ceiling, so you can watch TV during treatment, nitrous oxide (laughing gas), and a friendly and accommodating staff.
I have worked hard and continued my education to be able to offer services that most general dental offices do not offer, such as same-day crowns, implants, and orthodontics. My office is very state-of-the-art and I utilize many of the latest technologies to help me provide these services. In addition to digital radiography, I have added Cerec technology, which allows me to offer same day crowns and veneers, as well as, 3D radiography for computer guided implant placement. Implants are not only the ideal replacement for a missing tooth, but they also aid in denture retention. Our orthodontic program consists of conventional braces for adults and adolescents, as well as clear aligner systems for less obvious orthodontic treatment.
Of course, not all patients need orthodontics, implants or veneers. We still do every day fillings, cleanings, dentures, extractions, root canals, cosmetic dentistry, and teeth whitening. If you have a toothache, we do take emergency patients during office hours to get patients out of pain.
I love what I do and I love my patients and staff! We are always accepting new patients and we would love to see you in our office!